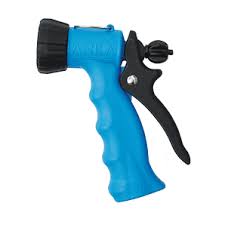 Made from glass reinforced nylon, ANKA's Trigger Spray Gun is solid in design with practical features ideal for all 3/4" and 1/2" hose applications around the home, farm or boat.
Unique Design
Protective Outer Ring
Quick Action Trigger ON/OFF
Clip On Trigger
High Flow
Chemical and heat resistant. Will resist most oils, lubricants, fuels & mineral acids.