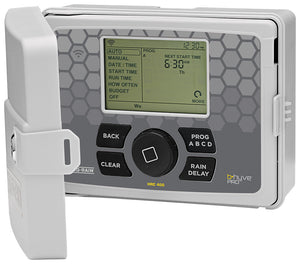 The Hydro-Rain HRC 400 Smart Irrigation Controller, powered by B-hyve, combines the easiest-to-program controller on the market with the remote capabilities of Bluetooth and wifi.
Users can control the timer with the Android or iOS app, from their computer, or at the controller with the familiar, intuitive interface that millions of customers have come to know. A perfect controller for new installations, or for replacement applications. 
The HRC 400 Smart Irrigation controller is available in 8 or 16 stations to cover most sprinkler systems. Contractors can order the HRC 400 with a business logo screen printed on the cover from their local distributor.