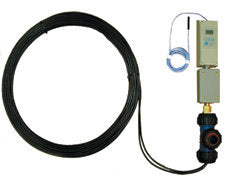 Finally a reliable solution to freeze protect a water pipe from your well, or lake supply in even the coldest of winter at an affordable price.
Wintergard Miser In-pipe heating cables, thermostatically controlled ensuring maximum energy efficiency. When temperatures fall the thermostatically controlled heating cable generates heat and prevents ice from forming inside the pipe. Heating cables manufactured from reliable, heavy duty cable construction made entirely of metal and mineral insulation; acknowledged as the longest lasting and toughest heating cable on the market!
Miser Wintergard is designed for use with a 1" or 1 1/4" PE (poly) pipe. Can be retrofitted to existed pipe or use in new installation. The unit is provided complete with specified length of heating cable, a Philmac tee compression style fitting, 120v GFI plug in and protected controller, thermostat and sensor. Insulation is recommended to further energy efficiency.