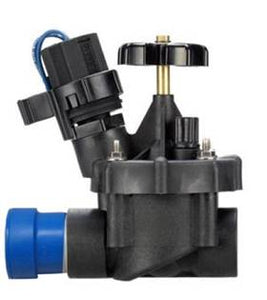 Residential and commercial ready—For use on low flow drip zones to high flow commercial 1" rotor applications.
Pilot hole & filter screen—Prevents debris from inhibiting valve operation.
Flow control handle—Provides means to manually adjust flow rate to the sprinkler system.
Slow Closing—Prevents water hammer resulting in less stress on the entire sprinkler system.
Durable design—Glass-filled nylon body construction for maximum performance under extreme conditions.
Stainless steel studs—Molded directly into the valve body prevent damage due to over tightening.
Manual external bleed—Great for year-end seasonal shut down (flushing water from the system).
Manual internal bleed—For on/off operation at the valve
One piece solenoid design—Captured plunger and spring keep for convenient servicing.
Solid brass and stainless steel—HRB's brass & flow control stem and stainless steel diaphragm spring resist corrosion and promote years of reliable service.
Versatility—Models in the HRB series range from 1" up to 2".