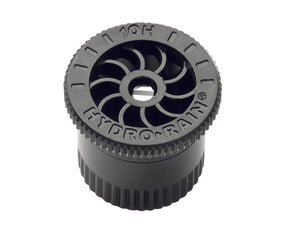 Low precipitation rate.
Best in class right and left arc edges.
Optimal pressure range: 15-30 PSI
Easy pattern indicators located on the top of each nozzle.
FEATURES AND BENEFITS
Fastest to Find—Tops are pattern-identified according to spray radius, making identification a snap. Nozzles and filters come in separate, re-sealable bags for complete organization.
Fastest to Install—Coin-edging around top of nozzle gives excellent grip-ability no matter the conditions.
Fastest to Fine Tune—Exclusive adjustment slot allows use of a screwdriver to fine tune distance adjustment during operation, without intruding into the spray pattern.
Lower Precipitation Rate—Matched precipitation, combined with outstanding distribution uniformity and lower precipitation rate than competition, generates improved efficiency.
Arc Edge Technology—Three-piece design provides best-in-class right and left arc edges, optimizing distribution uniformity.
Oversized Filter—Large .02 x .02 blue mesh filter reduces maintenance and ensures precipitation rate remains at optimal levels longer.
Knurled Nozzle Top Edging—Ensures positive installation.
Pattern-Identified Tops—Eliminates all guesswork by specifically identifying nozzle spray pattern.
Three-piece Design—Nozzle stop stays flush to wiper seal across full range of arc adjustment, minimizing susceptibility to damage from lawn equipment and traffic.
Stainless Steel Adjustment—Slotted screw provides precise radius adjustment.
Blue Filter Screen—.02 x .02 filter screen included standard.
Compatibility—Fits Hydro-Rain®, Rain Bird®, and Hunter®.