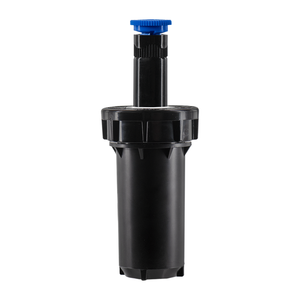 In a world of heavy, abusive lawn equipment, only the tough survive that's why we set out to create the most rugged, durable spray head on the market – a head with a "bring it on" attitude and a body that can take whatever you throw at it. The new HRS 200 is that spray head. Hands down, it's the heaviest-duty product of its kind out there. The facts speak for themselves: the wide cap is made with almost 50% more material than the nearest competitor. The wiper seal is the industry's largest. The body is made of ultra-strong ABS 709. And the Hydro-Seal check valve holds back upto 14 feet of water, and that's just the beginning. Top to bottom, inside and out, this head sets a new standard for long-lasting reliability under even the harshest conditions and most punishing treatment. And that means fewer call-backs and replacements.
FEATURES AND BENEFITS
Greater Strength - 47% more cap than the industries leading spray head brand
Co-molded, TPR pressure-activated wiper seal - Minimizes flow-by with an industry leading seal and cleans debris from stem
Two-piece ratchet stem mechanism - Makes lining up the spray pattern to match the landscape quick and effortless
Stainless steel retraction spring - Insures reliable retraction and durability
Constructed with high-impact ABS 709 - Stands up to the elements for years of dependable performance
Pre-installed Hydro-Rain® flush cap - Pull-tab design makes nozzle installation easy while directional flow path makes flushing quick and easy
Top performance and full flexibility nozzles - Hydro-Rain® HRN 200 adjustable arc nozzles rotate 0°-360°
Three-year warranty - Hydro-Rain® ensures full quality performance for the warranty period or we'll replace it.