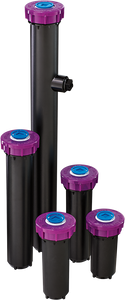 6" PRHS 30/40 Adj. PSI/Check Valve Spray Body
Redesigned from the ground up the HRS 200 is the most innovative, robust, and easiest to use head on the market.  Ready for commercial, municipal, or residential applications that demand a professional grade spray head.
Now available for Non-Potable water applications!  Dark Purple (Pantone 512C) cap allows for quick identification per IAPMO 1503.7 Reclaimed (Recycled) Water System Color and Marking Information.

The adjustable 30 or 40 psi pressure regulator consistently holds pressure to improve performance and distribution uniformity.  The HRS 200 is the professionals' choice when coupled with the Hydro-Seal check valve to eliminate low head drainage and allow for faster stem activation.