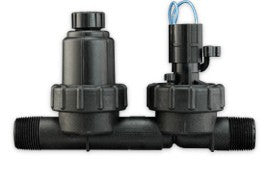 One-piece construction combines low flow irrigation valve, 200 mesh filter, and pressure regulator-effectively reducing installation time and parts inventory.
Accessibility. "Jar-Top" valve, and filter are easily maintained, no tools required for service; no valve bonnet screws or bolts to drop into the mud.
Internal manual bleed. Operate HRZ100 manually with no external bleed stream or use external bleed option for effective "blow out" during seasonal system shut down.
Compact. HRZ100 is easily covered in a 6" round valve box and up to four will sit nicely in a standard size box.
1" Low-flow valve. HRZ100 operates efficiently from 0.1 to 5 G.P.M. perfect for residential or light commercial drip or micro watering.
Water management. HRZ100 features pressure regulation at 20, 30, or 40 P.S.I. applicable in a range of low flow applications.
Filtration. Removable "top loaded" 200 mesh filter with easy-flush service cap makes flushing fast and simple.
Drip Tubing Ready. .700 – .710 tubing adapter included for quick and easy out of the package installation.
Stainless Steel metering design ensures optimal diaphragm performance.
Durable glass-filled nylon construction for years of reliable operation.