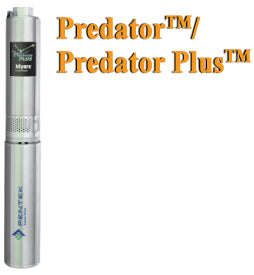 Myers 1/2 HP Submersible Pump, 120v or 240v. The predator's stainless steel exterior provides the maximum corrosion resistance in the market. The Teflon reinforced polyester staging has proven to be superior to the competition in handling abrasives. This combination of SST and Teflon gives our customers the advantages they deserve.
Advantages by Design:
Teflon - Reinforced Polyester Staging:
Provides better heat deflection and lubrication...allowing Myers Predator ST to handle grit, sand, and other abrasives for longer life and trouble free operation.
Built-in Non-Rotating Check Valve:
For easier installation
Balance Floating Impeller Design:
Eliminates friction for higher efficiency and longer life.
Exterior:
Made from 300 series Stainless Steel for protection from corrosion.
1 1/4" NPT Cast Stainless Steel Discharge
Solid Stainless Steel Coupling:
Precision spline for positive drive connection and easy assembly to the motor shaft.
Rubber Bearing:
For maximum resistance against abrasives and sand.
Please contact us for further dimensions!