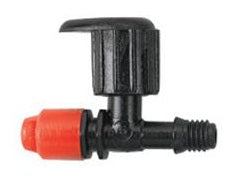 This low volume sprinkler head is an efficient and gentle way to water flower beds. The control knob adjusts water flow and spray distance. Easily threads on a 1/4" riser or sprinkler stake.
Ideal for watering flower beds.
Adjustable spray distance - 5' to 10'.
1-29 GPH at 25 psi.