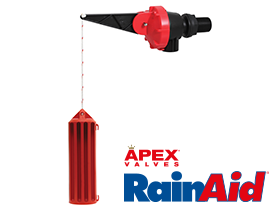 The RainAid valve automatically switches water supply from rainwater to mains water as a backup in the event of rainwater demand exceeding rain supply. ; UV stabilized to withstand the sun's rays; Simple to install. No electrical supply required; Standards approved for mains water connection.
Under normal conditions, rain water will fill the tank. If the rainwater level drops below a pre-set level, the RainAid® will open to maintain the water level using mains water.
The rainwater tank is used to supply water to non potable outlets such as toilets, laundry and garden.There is a 4" differential between the open and closed positions of the RainAid® valve.